Maxime* scrolled through the photographs, his eyes fixed on the computer screen, showing competitions in Brittany, in north-west France, and a French championship. We zoomed in on a sturdy individual in an impeccable black suit with his hand resting on a scoreboard. In the following image the same man poses in the middle of a group of young champions. In another photo the man, older now, in his sixties, is seen with a microphone in his hand and hosting a table tennis tournament. In a final image he is there again, in the official uniform of a club from the Breton town of Brest, next to two boys aged around 12.
Maxime, who had met with Disclose on the banks of the River Rhône in south-east France, hundreds of kilometres from Brest, looked at the photos calmly. The images and the new life built by Yves R., the man who raped him, he knows only too well. On several occasions Maxim, now in his forties, had thought about trying to raise the issue with the people who ran his old club, and the national table tennis federation, the Fédération française de tennis de table (FFTT), to remind them of the past record of the individual in their employment. "But I felt no hate," he explained. "Now that I've got kids who are the same age I was when that happened, I have bit more."
We had returned with this man who now has a family, and who teaches at a secondary school close to Lyon in south-east France, to the Croix-Rousse district of the city, to the place where it all started. "Nothing has changed," he said, as we stopped in front of the Maurice-Scève sports hall where many local table tennis players still practice.
Maxime's nightmare began in 1988. He was then aged 11 and was training at the ALCR, one of the most prestigious table tennis clubs in Lyon. He was a talented player and qualified for national finals to be held at the Paris-based Institut National du Sport, de l'Expertise et de la Performance (INSEP). It was during the trip to the French capital that his coach, aged 35, arranged to sleep with him in the same bed. "That's where it all started," recalled Maxime.
For nearly three years, Yves R. made the boy take part in 'special meetings' after each weekly training. "He used to tell me that it was to improve my sporting performances, I was daft," he said, looking back with bitterness. Some of the assaults took place at the Favre boarding school – specialised in looking after youngsters from difficult family backgrounds – where Yves R. was a supervisor in charge of discipline. But they also occurred during visits to holiday camps in Brittany organised by the table tennis coach.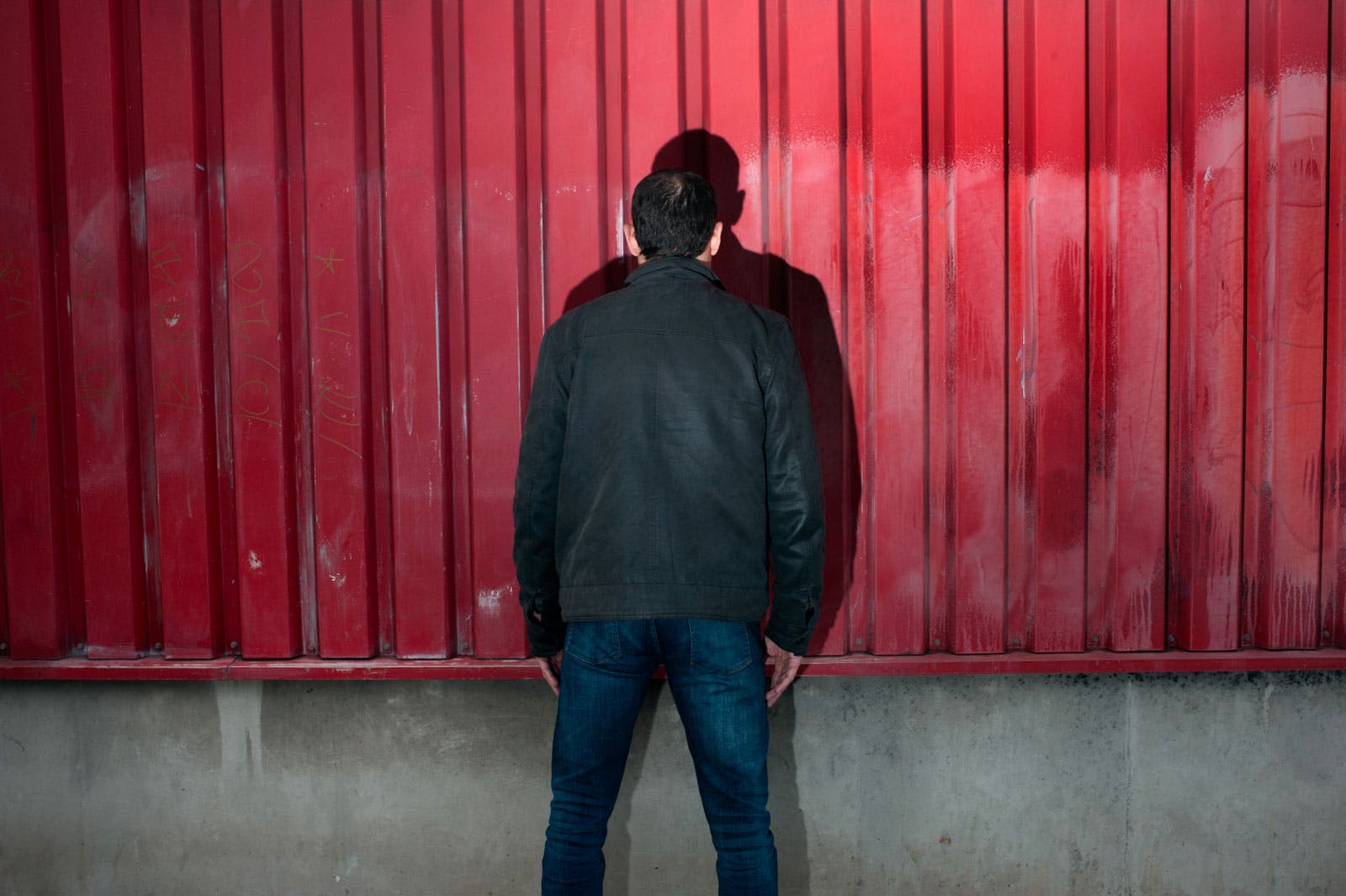 MAXIME, 43, IN FRONT OF THE MAURICE-SCÈVE GYMNASIUM IN LYON, SOUTH-EAST FRANCE. ©MARTINA CIRESE
Maxime has calculated that he was subjected inappropriate touching on about 150 occasions, with or without fellatio, and around 20 acts of anal sex. During the judicial investigation, which took place more than a dozen years after the first assaults, Yves R. made a partial admission that the acts took place, while denying their frequency. He also admitted sexual acts carried out on at least five other underage boys. One was Patrick*, a former player at the Croix-Rousse table tennis club and who today lives in the south of France. "I was 11 years old," Patrick told Disclose. "He used to take me and a couple of friends from the club to his house and take photos of our penises. "In return he'd give us 100 or 200 franc notes [editor's note, between about 15 or 30 euros]." Patrick and the other four children abused in this way did not lodge a formal complaint.
As a teenager, Maxime remained trapped in silence. "At school no one suspected anything. As far as I was concerned, the victim was another person," he said. Indeed, there were few obvious options open to him: Yves R. was a charismatic, respected and acclaimed coach who had also become a friend of the family. He came for dinner, regularly caught up with what was going on, and sent postcards. "I used to tell myself that I'd be speaking to him even when my parents were dead," Maxime said. "He had become a real friend."
In the middle of the 1990s Yves R. left Lyon for Brittany. There he became the director of a municipal children's centre at Relecq-Kerhuon in the suburbs of Brest. He also became president of a local tennis table club.
But the table tennis coach's past finally caught up with him when Maxime, by now an adult, decided to speak out. He firstly raised the issue with his older brother in a letter, dated January 17th 2000, when Maxime was aged 23. "A letter from me is not a very common thing," he wrote to his brother. "So you'll have understood that it's obviously about something quite serious that's worrying me, and I'm approaching you because you're my big brother and I trust you completely." Later in the letter he wrote: "Yves R., the so nice, supposed 'great coach' is in fact a paedophile and I was, from the age of 11 to 14, one of I think many victims." He reported the coach immediately afterwards.
When Yves R. returned to Lyon it was to stand as a defendant before a criminal court.
After a six-year investigation, the table tennis coach was convicted of multiple rapes of Maxime and given a five-year jail term, with three of those suspended. When he came out of prison, Yves R. went to Brest where he found a position as a manager at the TTC Brest Recouvrance table tennis club where many children train. He organises tournaments and officiates at competitions for the ruling body, the Fédération Française de Tennis de Table (FFTT).
Thus, despite his criminal record as a paedophile, Yves R. has for nearly ten years continued to work in contact with young people.
When contacted by Disclose, Yves R. confirmed that he is a table tennis "competition referee". But he played down his role with the TTC Brest Recouvrance table tennis club. "While there can be young people in the hall it's just a question of 'hello, good evening'. So I'm not a coach, I'm just a player." The club's president, Cyril Cotrel, meanwhile, insisted that Yves R. does not supervise children and said that he had never had cause to complain about his behaviour.
The French Table Tennis Federation was contacted several times and finally reacted on 9 December. When asked how a person convicted of a sexual offence, in this case rape, was able to work in a ping-pong club, Paul de Keerle, Director General of the FFTT, blames the judicial authority. According to him, "the problem is that the information does not reach the head of the federation". In response to Disclose's questions, the federation decided to act during the weekend of December 7 and 8. "Yves R.'s license has been suspended as a precautionary measure. He can no longer participate in any competition," says the General Manager. Before concluding: "The position of the President of the Federation is clear. An adult convicted of sexual assault on a minor may no longer meet young people in competition." But It is necessary to raise awareness among the leaders of regional leagues, departmental committees and table tennis clubs about the fight against sexual violence.
77% remain in post despite a conviction or being the subject of investigation
This investigation by Disclose has revealed that several dozen sports coaches, such as Yves R., are still in post despite either having been convicted or facing an ongoing investigation. It shows how legal orders banning individuals from working with minors are being repeatedly flouted to a very large extent. It also highlights a complete ignorance of the law, in particular article 212-9 of the sports code, on the part of some sports officials.
The case of Mustapha El Hadifi is particularly demonstrative of the scandal. On February 5th 2004, during a judo training session at a small club in a village close to Colmar in the Alsace region of north-east France, 38-year-old El Hadifi assaulted one of his judo pupils, a girl aged 13. Two days later her family lodged a formal complaint with police.
The judo instructor received support from many within the small judo community in the Alsace region. "He was a good guy, liked by everyone, by all the athletes," said Jean-Pierre Wiss, the former president of the club in a village where the coach worked at the time. "We even had petitions of support [for El Hadifi]," he added.
However, in 2007 Mustapha El Hadifi was convicted and sentenced to a year in prison, with another year suspended, for sexually assaulting a minor. He was also banned from working with children.
Unusually, he was convicted due to evidence of his DNA, a sample of which was found on the crotch of the teenage girl's underpants. The public prosecution service's report advising that El Hadifi should stand trial in Colmar read: "The kimono trousers are in principle worn very tight around the waist. The hypothesis that the hand was introduced – even if it was partially – in the trousers, and more so in the underpants worn under them, is more than improbable during a simple training session."
Contacted by telephone, El Hadifi said that he had "paid and suffered" over the case. But he still denied the key facts. "I had around 30 years of teaching behind me and on average I had 200 pupils a year […] Just one girl accused me out of so many girls. It was really a right stitch-up. It's typical village life. I'm not going to allow that to stop my life, my work and my passion," he said.
After he left prison, El Hadifi found a position as a coach at a martial arts club in Colmar. "I was the club's technical director and coach for adults for several years," he said. Several witnesses interviewed by Disclose, however, insisted that he also trained children. "It was impossible for him to respect his ban as there were also minors in the adult course that he ran," said Alfred Rosenzweig, the former president of the judo league in Alsace. Whatever the commentaries, El Hadifi was in fact handed the supervision of younger judo pupils in the following years.
"The legal system has done its job, he was convicted, there's nothing more to say," said Stéphane Panetta, president of the Colmar club who now employs the man who used to teach him. "Life has gone on and I can guarantee to you that we have no problem with this person, and that all's going well in relation to the lessons. We're one of the best regional clubs and that's down to his commitment. You have to respect that, you have to respect the man."
In 2018, Mustapha El Hadifi received a prestigious award from the hands of Jean-Luc Rougé, the president of the French judo federation, the Fédération française de judo (FFJDA). This was the Bronze Palm, a decoration for technicians of the sport who, it is indicated in the federation's guide to its awards, have demonstrated "a radiant" influence across a region and who "are respectful of values and know how to control themselves". Five years earlier, El Hadifi had received another award, the 'Bronze Medal' issued by the municipal authorities in the town of Colmar, in Alsace. Contacted by Disclose, the sports department of the Colmar town hall failed to respond to questions submitted to it.
In the wake of the investigation by Disclose, the French judo federation finally recognised what its vice-president and secretary general, Jean-René Girardot, described as "a clear error of judgement" concerning El Hadifi, and on November 18th it stripped him of the Bronze Palm award. Meanwhile, the head of the awards commission of the judo league in the Grand Est region, which includes Alsace, resigned.
Questioned about the fact that El Hadifi was able to continue working with children despite his conviction, Jean-René Girardot replied in writing that "only the administrative authority has the policing power to prevent or prohibit someone from teaching a physical activity [in France], a power that the federation does not have (Article L.212-9 and thereafter in the code of sport)". But that does not prevent the federation from asking questions of the club that employs the instructor, in this case the club close to Colmar.
There is also the issue of why the authorities at the prefecture (the local representation of state administration) for the Haut-Rhin département, based in Colmar, failed to take action over the case of El Hadifi. Questioned, the appropriate service, in charge of "social cohesion and protection of the population", the DDCSPP, said that a check of the background of salaried sports instructors is automatically carried out once per year. It underlined that the alarm is raised if the professional card of a person is found to match a mention on what is called a "Number 2 bulletin" on a criminal record. In the case of Mustapha El Hadifi, that mention had been scrubbed out. "On the B2, he managed, one way or another, so that there was nothing," said Laurent Dupuy, an inspector with the Haut-Rhin prefecture's DDCSPP
"I was vaguely told that there was a problem"
Across mainland France and beyond to French overseas territories, there are numerous examples of sports instructors who continue to be professionally active despite having been convicted of serious offences. 
·       In 2014, a boxing coach in the Grand Est region of north-east France was found guilty at his trial for the sexual assault of a young girl. He was handed a three-year suspended prison sentence, and given a ten-year ban from exercising any activity with minors. However, he works as the principal instructor for an Omnisport club in the region. Contacted by phone, he said he coaches "only adults", adding: "Since my conviction, I've kept my nose clean, I don't want to go back to prison." Also contacted, the French boxing federation failed to respond to questions submitted to it.
·       On the French Caribbean island of Guadeloupe (which is administered as a département of equal status to any other in mainland France), Rod Dabriou works as an athletics coach. He trains young French athletes at the Monster Club Athlé, situated close to the city of Pointe-à-Pitre, and who in the past has included Yanis David, a gold medal-winner in international triple jump and long jump competitions. In October 2019, Dabriou was sentenced to four years in prison, two of them suspended, for sexually assaulting a girl minor. He has appealed the sentence, and so remains innocent until the final judgement is reached in the case. During the two-year judicial investigation into the alleged assault, no preventive action was taken against him regarding his professional activities. Questioned by Disclose, the French athletics federation, the FFA, said no "information about this case was passed on to the level of the federation and no submission to the disciplinary commission was made". On the question of the absence of any measures taken against Dabriou while he was placed under investigation, the FFA said "being placed under investigation is different to a conviction". (Under French law, a magistrate can place a suspect "under investigation" on the condition that there is "serious or corroborating" evidence that they committed, or assisted the committal of, a crime. Charges are only brought in the event that, at the end of an investigation, the magistrates decide the suspects should stand trial). 
·      In Brittany, Mélanie*, a 21-year-old triathlete, told the management of her club on May 29th 2018 of an alleged sexual assault by her coach to which she said she was subjected two years earlier. The coach remained in his post until the following December, when his contract ran out. "I had no proof and the person did not lodge a formal complaint," said a former manager of the club, questioned by Disclose. Just a few days before the coach's contract reached an end, another female member of the club accused him of rape, which she said occurred when she was aged 15. "On January 21st 2018, we were due to go to a race together. He stopped on a country road and made me climb into the back of his truck," the teenager, visibly upset, told Disclose. "I had never in my life said 'no' so many times." One year after the alleged events she lodged a formal complaint in the Breton town of Lorient. Contacted by Disclose, different sports officials pointed the finger of responsibility at each other. The local triathlon club complained of the lack of information given to it by the regional triathlon league, while the latter says it was the club's responsibility to take action. "Our hands and feet are tied as long as the justice system has not carried out its job," commented Andrée Vidil, president of the Breton triathlon league, which is one of several regional leagues of the official French Triathlon Federation (the Fédération française de triathlon). In fact, the federation is empowered to suspend the licence of the accused coach. On March 27th 2019, Mélanie in turn lodged a formal complaint against the coach. Meanwhile, the accused coach has still not been questioned by police. Contacted on November 14th this year, he said he contested "more than ever" the allegations made against him. He continues to have a licence and still works as a triathlon coach in Brittany.
PAULINE, 15, ACCUSES HER FORMER TRIATHLON COACH OF RAPING HER.

HER ALLEGED ATTACKER HAS KEPT HIS TRIATHLON LICENCE DESPITE THE ACCUSATIONS AGAINST HIM AND CONTINUES TO WORK AS A COACH IN BRITTANY. ©MARTINA CIRESE
·       In Brittany, tennis coach Bruno Balbine was sentenced to five years in prison, three of which were suspended, for the rape and sexual assault of a 12-year-old girl in 1999. Contacted, Balbine said that his relationship with the girl was one of mutual consent. "It doesn't excuse anything, but she was in love with me," he said. During his sentencing, he was given a ten-year ban from exercising activities with minors. When that ban elapsed, he went back to training children. Despite Article L212-9 of the French sports code which prohibits a person convicted of rape from supervising a sports activity, Balbine, at the end of 2019, was still coaching minors, in Milizac and Porspoder in the Finistère département in Brittany.
Contacted by phone, Laurent Bernard, the president of the club in Milizac, admitted that he was aware of the criminal record of the coach he employs, but insisted that, "Mr Balbine has only one young girl in his group" and that her parents "have been made aware" of his past. Meanwhile, the president of the club in Porspoder, Nelly Herry, said she was unaware of Balbine's conviction. "I was vaguely told that there was a problem, but that the complaint had been withdrawn," she said. Herry announced that she was going to call a meeting of the club's bureau "to rule" on the case. Neither she nor Bernard, according to their statements, were aware of the existence of Article L212-9 of the code of sport. Meanwhile, the French tennis federation insisted it had never been informed about the "perfectly abnormal situation". The federation's director-general, Jean-François Vilotte, told Disclose that he would be contacting "the regional services of [the ministry of] sport and youth and look into the situation of this person".   
·       The attention of Disclose was drawn to yet another case which involved the technical director of a judo club in the suburbs of the town of Grenoble, in the Isère département in south-east France. In 2016 he was sentenced at the end of his trial on appeal to a suspended jail term of 18 months for the sexual assault of a minor "by a person in position of authority". The man, Patrice V., from the club ESSM Judo in Saint-Martin d'Hères, took his case to the highest appeal court, the Cour de cassation, which the following year confirmed his sentence. According to information given to Disclose, Patrice V. remained in his post as technical director at the club, which brought him into contact with minors, up until he lost his appeal. Today he continues to work for the club, but he told Disclose: "I only have an administrative role." Patrice V. maintains that he is innocent of the crime for which he was convicted, and said he has now taken his case to the European Court of Human Rights. The president of the ESSM Judo club, Gisèle Gonzalez, who was herself once trained by Patrice V., told Disclose that she was certain that "he was the victim of a plot". Meanwhile, according to information given to Disclose, Patrice V. supervised judo training courses with minors in India in 2016 and 2017, after both his initial conviction and its confirmation on appeal.
·       In the Aquitaine region of south-west France, the Fédération française handisport – the French federation for disabled sports, also called parasports – was alerted by a mother that one of its officials had two convictions for sexual crimes. In 2011, she sent the national management of the federation a cutting of a press report about his last trial, held in Bordeaux in 1996. The man in question, Jean-Marc D., a former coach of the French national parasport team in basketball, was handed a six-month jail sentence for corrupting a minor. He had already been convicted four years earlier for indecent assault on a minor, for which he received a suspended two-year prison sentence. Disclose obtained a copy of the court rulings in both cases, and contacted witnesses cited. Jean-Marc D. preyed on at least four victims aged under 15.
Eight years after his last conviction, he worked as a manger of the youth section of the handball parasport branch of the Aquitaine centre for sport resources, expertise and performance, the CREPS. On social media, Jean-Marc D. can be seen in photos posing alongside young athletes. In 2016, he became the only French representative in dealings with European bodies organising international competitions. The national federation finally took action in April 2019, after the involvement of an association called La Parole libérée (roughly meaning, "the liberated voice") which had been notably active in raising public awareness of paedophile crimes committed within the French Catholic Church. In June this year, the French parasport federation's president, Guislaine Westelynck, insisted that the "Number 2 bulletin" of Jean-Marc D.'s criminal record had been checked and was found to be blank. Nevertheless, he was subsequently ousted from his responsibilities, while glowing reports about him were hurriedly removed from the federation's website handisport.org. One of them was a portrait that paid tribute to his ability for "taking on the role of a dad, or an elder substitute brother" towards young parasport players. 
*The first names have been changed